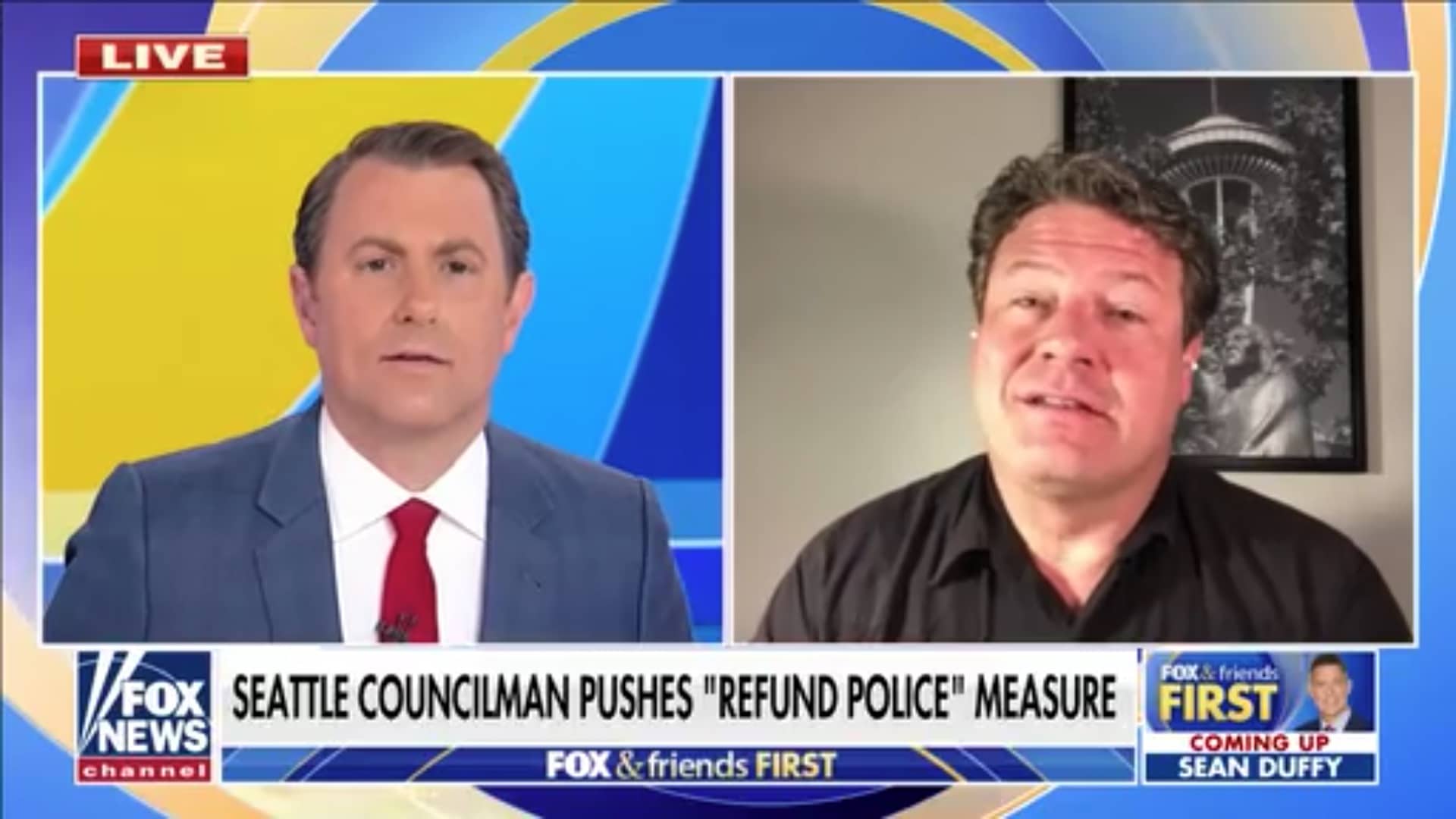 Fox News Covers Reagan Dunn's "Re-fund the Police" Initiative
"For a long time, the suburban taxpayers have been on the hook for Seattle's failed policies. If the city of Seattle, being a large one, won't take its responsibility to protect the public seriously, we have to step in. My 'Re-fund the Police' initiative, will build back a huge number of law enforcement personnel, as well as some specialized units."
That's how I explained my plan to clean up the mess created by Democrats' "defund the police" policies in a recent interview with Fox News. As a member of the King County Council, I have a duty to fight for safe communities. I take my responsibility as an elected official seriously. That's why I will always put public safety ahead of any partisan agenda.
Radical Seattle politicians have slashed funding, drained resources, and weakened morale in the King County Sheriff's Office. Unfortunately, when politicians recklessly treat law enforcement officers as pawns in their political games, our communities suffer the consequences. From Fox News,
"Despite a mounting public safety crisis, the sheriff's office had been forced to eliminate initiatives such its traffic unit, DUI Unit, fraud unit, and gang unit, Dunn said. Other critical services that have been reduced include its domestic violence response, the child find unit which responds to kidnappings, 911 dispatching, the special assault unit which responds to sexual assault and abuse, the registered sex offender unit, K-9 precinct-level detectives, and the SWAT team."
Since these cuts were made, crime has skyrocketed across the county. Shootings increased in King County by 61% (over the 4-yr average). The murder rate hit an all-time high, with more people killed between January and September of 2021 than all of 2020. Shockingly, this hasn't stopped radical Seattle City Councilmembers from – once again – proposing to slash the Seattle Police Department's budget, this time by nearly $11 million.
But our communities have had enough. The results of the 2021 elections, including my re-election in a swing district by over 60% of the vote, prove voters are rejecting the "defund " agenda. From Fox News,
"'The winning ideas, the right policies, the voters get it. And for the first time in nearly a century, the city of Seattle elected a Republican to be its city attorney,' Dunn said. 'It sends a message, particularly to the 'Defund the Police' crowd, the woke left that, 'Hey, your policies are failing. They're not getting votes.' In fact, any candidate who touches that is going to lose the next election. And so, these are very tough votes now for my colleagues today because they know they're going to be challenged by moderates who have had enough of the way that Seattle is trying to run our community.'"
I'm dedicated to fighting for public safety by fully supporting our law enforcement heroes. And I'm ready to take that fight to Congress. Unlike my Democrat opponent, I've never wavered from supporting law enforcement. I've never sacrificed the safety of the communities I represent to appease the extreme fringe of my party. If elected to represent you in Congress, you can count on me to always place the safety of my constituents ahead of any partisan agenda.
Our communities deserve a leader who will stand up for their interests despite political pressures. My Democrat opponent is not that leader – but I've proven that I'll always work for my constituents. I hope that I can count on your support in November 2022.